Slowing down for the important things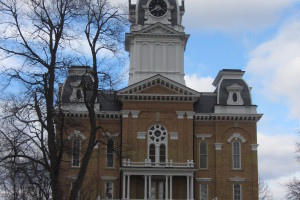 In this week's Sports Illustrated there is an article about Lindsey Vonn, the Olympic champion skier, who took a nasty tumble and tore multiple ligaments in her knee.  Reflecting upon the injury, she says, "Maybe I have had too much stack up.  It's been go, go go for the last few years.  And so this was God's way of saying, 'You need a break.'"
I know the feeling Lindsey, I know the feeling.  It's funny.  It has been two and a half years since I faced that feeling physically after breaking my leg just as I was embarking on my journey at Oxford.  I cannot believe it was that long ago.  And, at the same time, so much has happened since then, including an entire MBA programme (and developing 240 new friendships), moving halfway across the world to Utah and back again, home to Michigan.
But, lately, the same message keeps creeping up in my subconscious as well.
My Hillsdale accounting professor and I reconnected this winter.  He added me to his weekly blog, something he uses to keep friends near and far abreast of what he is up to (and does a much better job at it than I do with thelockhart).  Even when he only has time for a short post, he still ends it with, "Hope you can take some time this weekend for the important things."  That one line has really resonated with me.  It has been a great reminder on Saturday mornings of what to care about in the days ahead.
The same message reappeared when spending the morning with one of my friends from high school. who I have been so lucky to see more of since moving back to Michigan, this past Friday .  I've known her since I was 14 and smile when realizing we have been in each other's lives, daily or intermittently, for 18 years.  She's like a sister to me.
We spent the morning "swooping" – getting donuts for breakfast from Knapp's, going to the grocery store, Lowe's, Target, Marshall's and CVS – nothing ground breaking but all a lot of fun.  It was great to just catch up and talk about life.
I told her how I had been rethinking plans of moving to London for 3 1/2 months this summer followed up by moving to Chicago.  I don't really have a purpose for either move other than I can (something powerful in itself).  I started to realize moving so much can wear you out as much as everything else.  My friend said almost the same thing as Lindsey Vonn, "Maybe it is God's plan to have you slow down."
Maybe it is.  Maybe it isn't a coincidence that two people who have known me for so long share a similar message with me at the same time, each in their own way. Maybe it is time to focus on the important things.