Why football (soccer) is the next big thing…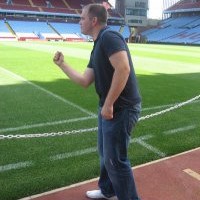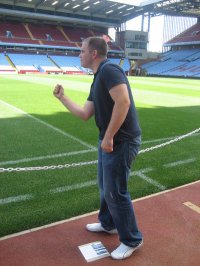 According to the US Embassy to Germany website "Of the 18 million Americans who play soccer, 78% are under the age of eighteen. In the 1990s, soccer was recognized as the fastest-growing college and high school sport in the United States."
Why do I bring this up? Because today, Aston Villa beat Blackburn 1-0 on James Milner's 23rd minute goal in the 1st leg of the Carling Cup Semi-final and I was fortunate to watch it live on ESPN360.com (my new favorite website), something that would have been unimaginable 10 and maybe even 3 years ago. About 80% of that last sentence will baffle about 80% of you. In 2035, it will be 20% of you.
Living in England, my friends and co-workers were shocked to know that I played football (let's be honest, that's what everyone else calls it, so I'm joining the bandwagon once I establish what we're talking about) for most of my young life from 5-17. They had no idea that the statistics I opened with were true. I had to explain to them that because my father's generation did not play football, there was little monetary investment in a professional league. Not until 1990 when Team USA returned to the World Cup for the first time in 40 years (and they haven't missed since), did football command any attention on the national stage. Hosting the World Cup in 1994 did wonders for the sport and all of those born in 1980 and later had stars like Cobi Jones and Alexi Lalas to look up to.
Sidenote – I attended practice held for Team USA at Oakland University before they played at The Silverdome. I saw the players being interviewed and asked the guard how I could get over there. The woman told me, "You have to be the press to go over there." I responded, "Well how can I be the press?" She said, "I'm not sure." So I said, "Well, I'll be writing for my school newspaper in a couple of months when I start high school, how does that sound?" Good enough for a nice woman who proceeded to take me past the rope and hand my magazine and cards to get signed by all of the players. Football was making an impact.
It has continued to do so up to the point where at the same time Aston Villa v. Blackburn was being shown on ESPN360.com, so was the annual MLS SuperDraft. The draft was not in Madison Square Garden but rather what could have been a convention center or hotel conference room. Smart, manageable and finding its niche. That's what football is right now.
As my generation reaches a point where it is making discretionary monetary decisions on a wider scale, football will fully become the fourth major sport in America and challenge basketball for popularity (I still hold out hope that baseball can keep America's attention into the next generation). A name like Aston Villa will not be foreign to most. I adopted the Birmingham-based franchise as my "home" team when living in Birmingham three years ago. They happened to be the only local team in the Premier (pronounced prem-ear, not PREE-mure) League because Birmingham City had been relegated (yep, the professional teams get bounced to the lower rungs if they finish in the bottom 3). I found a team I love and have watched as Martin O'Neill has built up a very competitive squad. I'll get into the difference between the Premier League, Champions League, FA Cup and Carling Cup games another time, but for tonight, see what's coming, football is on America's horizon (for those not living in Salt Lake, Columbus, Chicago, Seattle and elsewhere that have already bitten the forbidden fruit). And yes, that's me on the sidelines at Villa Park.
Villa, Villa, Villa…Villa, Villa, Villa!
Goodnight and God Bless,
Scott